Honoring the Hero Dogs of 9/11
A tribute written by a New Yorker, to all you Americans out there.
The terrorist attack of the twin towers on September 11th of 2001 resulted in the greatest mobilization of rescue workers the United States has ever seen. 9/11 will continue to be a somber day for Americans, as we mourn the aftermath of the greatest terrorist attack our country has ever known.
However, it is also a day to remember the strength and compassion that was shown in the face of tragedy by those that rose to the challenge, and had the courage to lend a helping hand, and a helping paw to those in need.
Ground Zero, the site of the collapse of the twin towers, was described as being something of a hell on earth. Smoke and chemicals billowed up into the air and the ground was soaked with sooty, dirty water that had been used to extinguish the fires. The sheer size of the area was massive – unlike anything the rescue dogs or rescuers could ever have been prepared for. The slippery piles of wet rubble were full of pulverized concrete, twisted sharp steel, and glass. Rescue workers from all over the country arrived on the scene as quickly as possible. Even a police officer from Canada immediately drove to New York to provide relief, and was subsequently suspended from his department for leaving without permission. There was utter confusion as to what to do and where to search, because nobody had encountered a disaster of such epic proportions. Volunteers with their own dogs arrived on the scene in addition to SAR (search and rescue) workers, and soon a staff of veterinary professionals stood sentinel to provide care for wounded and collapsed rescue dogs.
Dogs sliced the pads of their paws on glass while they balanced, squirmed, and squeezed through small holes and confined spaces in the effort of finding any and all survivors. Most dogs worked longer than 12 hours a day, even up to 18 hours a day, for 1 ½ - 2 weeks. Many would end up collapsing from exhaustion or inhalation of smoke and chemicals. The dogs had to be given sanitizing baths and have their ears and mouth cleaned out at the end of the day, as well as their raw paw pads gently moisturized and tended to. Their exhausted handlers took comfort in their strength and persistence and the morale boost they provided. In turn, handlers took it upon themselves to pose as living victims in the rubble to give their dogs "a win" in order to raise their confidence and hope. The number of survivors was slim, and the task of finding them was emotionally taxing. Throughout the relief effort, dogs and humans relied on one another for emotional support. Most of the owners of these brave dogs claim that their dog seemed to have a sense of the magnitude of the tragedy, and an appreciation for how important it was to keep people's spirits up.
We're dedicating this blog post to the memory of the dogs that served the people of 9/11 and lived out their lives in honor and loyalty. This is a "Bark Out" to our upstanding canine citizens.
Roselle & Salty –
Roselle and Salty were working as guide dogs for their blind masters on September 11th, 2001.
Salty : A Labrador retriever guide dog working on the 71st floor refused to leave his master, Omar Rivera's side, after the attack. The fear and confusion of the attack was enough to make most dogs panic, but not Salty. On the way down the stairwell, Omar Rivera, who is completely blind, could hear the falling debris and the walls cracking. Beneath his feet, the building swayed. Fearing for the life of his dog, and not wishing to condemn him to the death Omar himself may soon be facing, he let Salty off his leash. Salty, however, would not leave Rivera and kept tugging his pant legs to keep him moving. Donna Enright, Rivera's heroic supervisor, was able to aid Salty in leading his blind master out of the crumbling tower. It took an hour for Salty to escort his owner to safety. Salty went on to be awarded the Dickin Medal, and the Partners in Courage award.
Roselle : Roselle was asleep under Michael Hingson's desk on the 78th floor at the time of the attack. Despite the noise, debris, and confusion, Roselle lead her master and 30 other people down 1,463 steps and out of the tower. The neighboring tower collapsed shortly thereafter. Roselle lead her master to a subway station, where they stopped to help a woman who had been blinded by debris. Hingston was so inspired by her courage that he left his job as a computer salesman to work for "Guide Dogs for the Blind". Following her death, Hingston went on to write a book about the experience : Thunder Dog: The True Story of a Blind Man, His Guide Dog, and the Triumph of Trust at Ground Zero.
Roselle has been awarded the Dickin Medal, and the American Hero Dog of the Year (2011).
Unaware that she would be awarded medals for her bravery and go on to be remembered in the hearts of many, Roselle returned home to have a nice play session with her guide dog predecessor and relax after a hard day's work.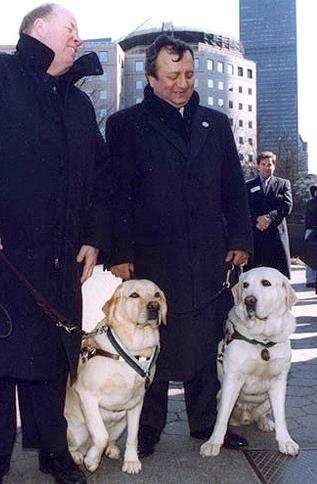 What is the Dickin Medal?
The Dickin Medal is a medal that was created to honor animals that fought in World War II. Today it is bestowed upon animals that demonstrate remarkable acts of bravery, usually in service to their human masters.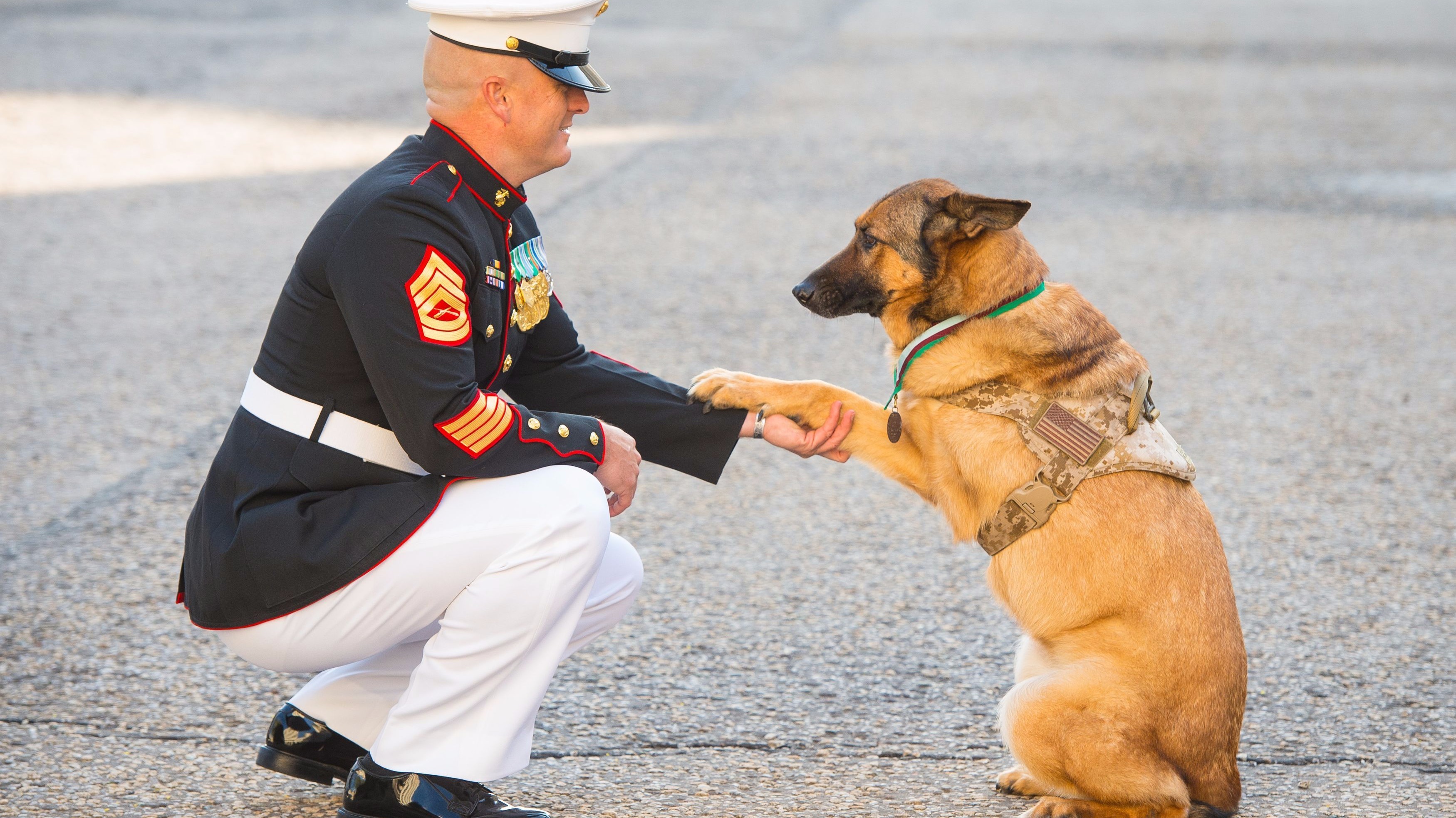 Hansen – A decorated Belgian Shepherd and well known rescue dog, owned by retired police officer Steve Smaldon, put in 150 days worth of work on ground zero. Most rescue dogs did not work longer than two weeks. After a savage vandalism to a monument that had been constructed to honor the dogs that served in the aftermath of 9/11, a new statue was created in the image of Hansen to commemorate him, and 8 local victims of the attack.
Thank you Hansen, for the five months you dedicated towards helping to make 9/11 an event of our past.
Bretagne – Bretagne was a golden retriever rescue dog whose first assignment was the 9/11 attack. Afterwards, she would go on to provide rescue services for hurricanes Katrina and Ivan. She was believed to be the oldest surviving hero dog of the September 11th rescue effort, and was humanely euthanized shortly before her 17th birthday in 2016.
When it became known that it was Bretagne's time, firefighters and search and rescue workers lined up along the sidewalk to salute Bretagne as she entered the animal hospital in Cypress, Texas. She was carried out with an American flag draped over her body.
"It was her first mission, but she worked it like a pro. She didn't get cut up, fall down, or get hurt. Firefighters would often come by and pet her, talk to her, and tell her stories." - Denise Corliss
Thank you Bretagne, for your love and heroism. You will never be forgotten.
Riley – Riley, a Golden Retriever search and rescue dog, was a vigilant canine savior who was only formerly trained to recover living people. Despite this, Riley continue to plow on with his grueling, dangerous job even after there were no survivors. He proceeded on, untrained, to find the remains of the family members who had been lost, and to support his human rescue staff with his courage, kindness, and tenacity.
Thank you Riley, for your big heart and your outstanding work ethic.
Coby & Guinness – Coby & Guinness were two lab rescue dogs that responded to the 9/11 attack. The dogs worked 12 hour work days for 11 days straight on the massive scale attack, which went beyond the scope and imagining of anything they had faced in their training. The ordeal was mentally, physically, and emotionally exhausting, but the tireless dogs managed to find a dozen survivors between them.
Thank you Coby & Guinness, for taking on a such a massive job, and finding yourselves equal to it.
Appollo – A true New York hero, Appollo the German Shepherd and his master police officer Peter Davis, responded to the catastrophic scene a mere 15 minutes after the attack. Appollo was the first search and rescue dog to arrive and immediately jumped in to provide relief for survivors. At one point during his work, Appollo nearly died from fire and falling debris. He managed to survive due to having been drenched in water beforehand, and after being wiped clean of debris, Appollo returned to his job immediately. Appollo worked 18-hour days to find the survivors of 9/11, until his body became too weak to continue and he was forced to stop out of exhaustion. Appollo was awarded the American Kennel Club Ace award, and the Dickin Medal.
Thank you Appollo, for showing fearlessness in the face of fire. Your bravery will always be remembered.
Thunder & Ricky – Thunder, a golden retriever owned by Kent Olson, and Ricky, a rat terrier owned by Janet Linker, were given the terrifying, dangerous task of working the night shift. Ricky's small size was ideal for slipping into spaces that larger dogs were unable to reach, and when he located a survivor, he would bark continuously until help arrived. Together, Ricky and Thunder canvassed the collapsed subway stations and stairwells for ten days. They saved a number of people, and recovered a number of personal possessions which were kept to be given to the family members of those who had been lost.
"To me, it was unrecognizable. I never saw steps. I never saw handrails. It was rare that you'd find a softball-sized chunk of concrete. The only intact thing was the paper." - Janet Linker
Thank you Thunder and Ricky, for being the light in the night of our darkest hour.
Trakr – Trakr the German Shepherd was born in the Czech Republic and joined the Halifax Regional Police in Nova Scotia, Canada when he was 14 months old. On September 11th, handler James Symington was at home with Trakr when he witnessed the collapse of the World Trade Center. Symington immediately drove 15 hours from Nova Scotia to Manhatten, arriving the morning of September 12th, and Trakr immediately went to work. At 6am, Trakr found signs of life. His discovery lead to the rescue of Genelle Guzman, the last of 20 survivors who had been inside the South Tower at the time of collapse. Guzman had been trapped for 26 hours prior to being rescued by Trakr and the rescue workers. Trakr worked day and night until, on September 14th, he collapsed from smoke and chemical inhalation. Trakr was treated with intravenous fluids and was eventually able to return home. Once back in Nova Scotia, Trakr and Symington were suspended from the Halifax police force for participating in 9/11 relief efforts without permission. Symington quit the force and moved to LA where he became an actor, and Trakr went on to win a competition and was named the world's most "clone-worthy" dog. Today, Trakr's genes live on in his five puppy clones : Trustt, Solace, Valor, Prodigy, and Déjà Vu. Time Magazine names Trakr as one of history's most heroic animals.
"Once in a lifetime, a dog comes along that not only captures the hearts of all he touches, but also plays a private role in history." - James Symington
Thank you Trakr, for risking your life for the chance to save so many more.
The Story of Genelle Guzman, who was rescued by Trakr and a volunteer.
"I went to work, and was chatting to a co-worker…Then everything turned upside down. The plane had hit. My co-workers tried to seal the doors but the smoke was coming in. We started descending the stairs. I got to the 13th floor staircase and stopped to take off my shoes, which had a heel.
Then the entire building collapsed. It all happened so fast. I was hurtling down to the ground – the next thing I knew, I was buried. I couldn't move, couldn't do anything…I said to myself: 'Oh my God. This is real. I am going to die.'
My head was trapped between two slabs of concrete. I couldn't feel my toes and I had so much pain in my legs, I couldn't take it any more. I just thought of everything dear to me – my daughter, my friends, my whole life – and I started praying for a second chance.
I had my left hand up in a space that felt like open air. Suddenly someone grabbed me by the hand. He said: 'Genelle, I've got you. My name is Paul.' I don't remember telling him my name. He knew it. I heard someone say: 'We have a survivor!' "
Jake – Jake was a stray rescued in Utah at just 10 months old. His handler, Mary Flood, nursed him back to health after he was found with a broken leg, a dislocated hip, and a number of other health problems. When she began training him for Search and Rescue, it quickly became clear that Jake was a natural. Jake flew from Utah to New York to be a member of the relief team for 9/11. An upscale New York restaurant provided him with a fancy steak dinner in preparation for the grueling work ahead, and then Jake went to it. He worked for an exhausting 17 days in dangerous conditions with toxic air, sharp debris like metal and glass, and other health hazards. Jake was only done with his job when he and Mary were sure there were no survivors left to be found. Jake went on to provide search and rescue for hurricanes Katrina and Rita, work as a therapy dog, and taught other dogs to follow in his paw steps and become the hero dogs of the future.
"He was a great morale booster wherever he went. He was always ready to work, eager to play, and a master at helping himself to any unattended food items." – Mary Flood
Thank you Jake, for showing us that you don't need to have an strong start in life to leave behind an indomitable legacy.
Tikva – A Keeshound therapy dog owned by Cindy Ehlers, Tikva provided emotional relief to exhausted and discouraged rescue workers. She also had the important job of servicing the pier nearest the 9/11 attack, where she would ride the ferry to comfort grieving family members who were traveling to see the spot where they had lost their loved ones. Tikva would nudge them and bury her face in their hands to help ease the burden of their grief.
"Some people never said a word all day, but when Tikva was ready to leave, they would turn to me and ask if I would bring her back tomorrow." - Cindy Ehlers
Thank you, tiny Tikva, for your big heart and your incredible instincts for compassion.